Although it's cool to store beers and other beverages on fridges, the experience isn't the same when you get your drink fresh and chilled out of a keg. This is what makes a kegerator a perfect addition to your home or business bar. 
Sadly, there are still people who are unfamiliar with this machine. 
That's why we made this article to discuss important details about it. Continue reading to know more about kegerator, how it works, what it's composed of, and what types you can get. 
What Is It and How Does It Work?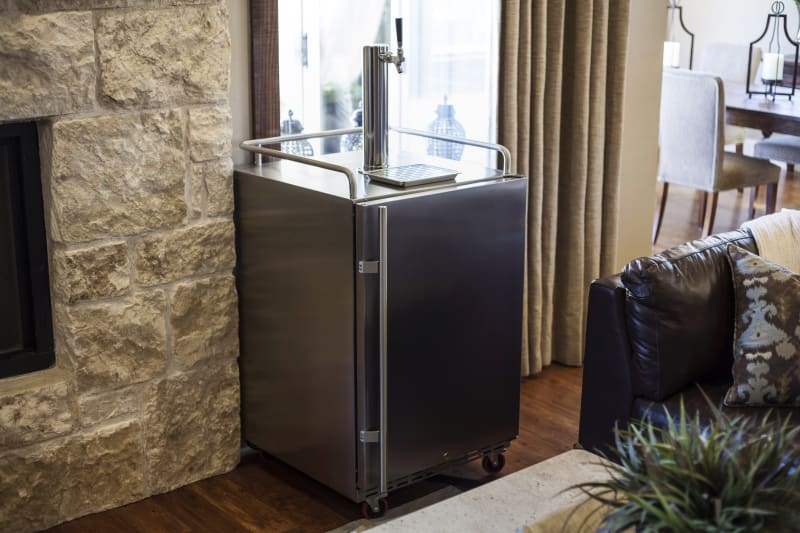 The word kegerator is a combination of "keg" and "refrigerator." It's a refrigerator with a protruding tap that is connected to the keg inside. It's an appliance used to store and easily dispense different beverages kept on kegs. 
It's basically a mini-fridge and a dispenser. You can use it to serve and pour beer, cider, cold brew coffee, wine, and even carbonated drinks. 
The hollow refrigerator houses the keg with a sealed door and features different components that help pressurize the keg. The pressure is maintained and carbon dioxide helps the liquid circulate and travel up to the faucet.  
Kegerator Components and Their Functions
To get a better understanding and image of how the kegerator works, here are all of its components and how they function to make the appliance work:
Cabinet: This is a refrigerated container where the keg is stored along with all the other components. Your beverage is kept cooled inside within an ideal temperature between 32 to 75 degrees Fahrenheit. It comes in different sizes and some can keep more than one keg inside. 

Tap Tower: This is also called the draft tower that sits on top of the cabinet. It's the loading zone of your beverage until you dispense the liquid on your glass. Tap towers come in different styles and shapes, and there can even be more than one tap in a kegerator. 

Faucet Handle: This is the lever that will allow you to dispense the beverage from your draft system. It comes in different shapes, styles, and finishes. 

Faucet: This is attached to the tap tower and is where the drink flows out. Keep in mind that the number of faucets and tap towers may not always be the same. You can attach more than one faucet to one tower. 

Drip Tray: This is located below the faucet and on top of the appliance. It's used to collect any spill or excess liquid that may drip when dispensing the drink. It's usually made of metal or plastic. 

Carbon Dioxide (CO2) Tank: This contains the gas that the kegerator needs to push the liquid out through the tap. 

CO2 Regulator: This is connected to the CO2 tank and it lets you adjust and change the CO2 pressure to maintain proper dispensing. 

Keg Coupler: This is a valve that connects and releases CO2 to the keg. It's placed on top of the keg and is connected to two lines: the gas line and the beer or beverage line. It runs the CO2 through the gas line and pushes the beverage out of the beer line. 

Keg: This is one of the primary components of the kegerator. It's the container that holds the beverage inside the appliance. 

Gas Line: This is also called the CO2 line which connects the regulator to the coupler. It's the passageway of the CO2 and works in conjunction with the tank to push the beverage out of the keg.

Beer Line: This is a tube connected to the coupler that carries the beverage up to the draft tower. 

Guard Rail: This is not a standard component of a kegerator. It's an extra part at the top of the appliance that keeps your glasses from falling off. 

Hose Clamps: These ensure that the gas and beer lines are well-connected. 
Different Types of Kegerator
There are two main types of kegerators: 
Indoor Kegerators
Basically, these are kegerators designed and built to be used only inside your home or a building. An indoor kegerator can fall into four more subtypes: 
Freestanding
This is the most common type and is a kegerator that needs no installation anywhere. They have stands and sometimes casters or wheels so they're easy to move and place wherever you like. Freestanding kegerators also tend to be budget-friendly and can hold at least one keg inside. 
Since the vent of the unit is at the back, this requires clearance from the wall for proper ventilation.  
Built-In
This is the type of kegerator you can install below a countertop. A built-in type is suitable for a complementary and seamless appearance of your place. It's designed with front ventilation so you can directly integrate it into countertops. You can place them against the wall and not worry about the appliance overheating. 
Mini
This is the smallest indoor type of kegerator and may also be referred to as a "Countertop Kegerator." A mini kegerator is ideal if you have limited space or plan to hold a small amount of beverage only. It's self-pressurized so you need to connect it to electricity to successfully pour your drink. A mini usually has a small keg that only holds about 5 liters of beverage.
Commercial
This is mainly used in commercial establishments, like restaurants and bars. A commercial kegerator can either be built-in or freestanding and are larger in size compared to the typical home kegerator. 
It also usually comes with more than one tap and door since they'll be designed to hold more beverages for more people. It can even have multiple kegs for more beverage choices. 
Outdoor Kegerators
These are designed to function in the outdoor temperatures. They can withstand lower and higher temperatures. An outdoor kegerator may have temperatures between 45 to 100 degrees Fahrenheit. You can also get them with single or multiple taps. 
They're usually made of sturdier and more durable exterior materials. This makes them ideal for outdoor patios, garages, outdoor bars, and basements. They may also come with casters to make moving easier. 
Final Thoughts
A kegerator is a perfect choice for a fresh pour of different beverages. If you'd ever encounter one, make sure to check if all components are present. Moreover, if you're choosing one, always consider what type would be suitable for your needs. 
Overall, it is a dispenser that serves you your favorite drink, chilled and ready to enjoy. You can check our kegerator collection to interest yourself with some actual products.